My Cloverleaf Mantra – by Brenda.
I have been a woman of great Faith my whole life.  I share that Faith with my husband Darryl, and our 3 children.  "Don't Stop Believing" is what I tell each and every person I interact with.   I believe that everything happens for a reason.  Often in life, we are given great challenges.  Challenges that seem so great, that we don't know HOW we are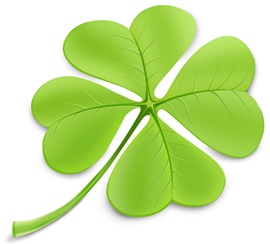 going to make it through. But we do.  And then, eventually, we begin to see that 'light' at the end of the tunnel.  We look back, and realize that had to happen, for us to be exactly where we are at this moment today.   The 'catalysts' to redirect our lives.
My husband has always had a gift for finding 4 leaf clovers.  It's uncanny how quickly he can spot one.  They say it's good luck to find one.  There is a 1 in 10,000 chance of finding a 4 leaf clover, yet Darryl, can find them anywhere he goes.   It has become very special for our family to see the clovers which he has found.
The 4 leaf clover signifies 4 things.  Faith, Hope, Love, and Luck.  I have realized, how significant these meanings are to myself.
Faith – because I always Believe.
Hope – something I NEVER give up on,
Love – for every body. Animals, or humans,
Luck – I truly feel Lucky to have had this path laid before me,  and Lucky to have been able to be alongside so many animals successes.
I have truly been blessed.
With this belief system, I happily take on the daily challenges of helping everyday folks with their everyday health concerns – from mild to seriously challenging. It is their successes, that are all the 'rewards' I need.  ❤️
Brenda Johnson
Winnipeg, MB