Dodger Fights for Life, with Severe Fungal Infection
Breed:  Border Collie & Labrador Mix   Age:  6
Dodger has been fighting for his life in a battle with blastomycosis for 3 years.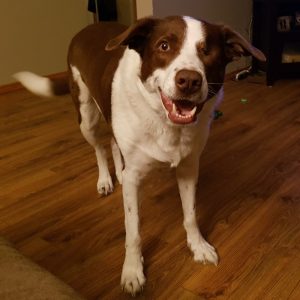 We have a cabin near Kenora, Ontario and this area is known to have fungus in the rotting wood and soil; and this is where Dodger was infected. We spent approximately $12,000 (Canadian) on anti-fungal medication, which worked for a year. In that time it had spread into one of his eyes, and we had to remove the eye and hope it didn't spread into his brain. We gave it a full year of the medication but once he came off the medication he became sick again. After about 6 months, an x-ray confirmed our suspicion. He was dying of the lung disease.
Kristine had heard of a product from a family friend and convinced me to let Dodger try it as a last resort.
Dodger started taking N'ZYMES Sprouted Granules (antioxidant support), Ox-E-Drops and Black-Leaf drops. Within a month he was back to playing, barking and going for walks.
He seems to have fully recovered/in remission from blastomycosis using the above 3 N'ZYMES products. We cannot thank Brenda, or these N'ZYMES products enough for helping to return our cherished dog Dodger back to us after a dangerous fight with blastomycosis.
Thank you Brenda!
Kristine and Dan
---
IF you are in USA and Seeking NZYMES Products, please go Directly to the NZYMES Website or call them directly – 877-816-6500