Pancho, a Chihuahua Cinderella Story.
I'd like to share the story of sweet little Pancho, down with dog paralysis, as told by his Mom, Lorraine.
---
On Oct 31 2014, our precious little puppy Chihuahua, Pancho,  fell off the arm of our leather couch hitting his head and back on the glass end table. We knew immediately that something was very wrong.   He couldn't move.
We took him to the vet, and learnt that his back legs were paralyzed, and that he was in shock with a concussion. Pancho was kept at the clinic for a few days. When we brought him home,  I had to feed him with a syringe every 2 hours to get medication into him. There were times when he was very mean and would snap at me thinking I was causing him all the pain he was in.  It was the most horrible experience listening to his continuous cries, and not being able to walk, or be upright for three weeks.
We took Pancho back to the vet.  He said there is 'no hope' as he could see no change in him.   He recommended to put him to sleep.  I didn't want to accept that.  'There is no way you are putting him down he hasn't even had his first birthday yet!!'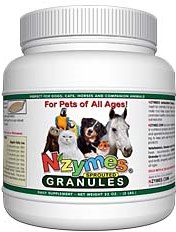 There was a whole lot of praying from family and friends. A friend of ours told me about Brenda Johnson and her wonderful product NZYMES®. I called her, and she came over with the Granules and Black-Leaf. Brenda is so amazing, with all the knowledge she has with helping animals. I call her Wonder Woman!!
The next day (2nd day using the Granules), he was starting to get up! We were in amazement.  Was this the same dog that we'd been told would never recover?
Within a couple of days he started pulling himself around the house.  He was a very determined puppy not to be using his bed to do his business and to get up and moving.
Brenda and I took her Bella and Pancho for several visits to Dr. Bailey a K9 chiropractor, and he suggested Sylvie Lavalee for physiotherapy/acupuncture. Pancho was very good with her as if he knew she was trying to help him.
Pancho has continued to improve.  He runs around like nothing ever happened to him, going up and down his ramp outside and chasing our other dog Tequila.
He is our little miracle for sure!!
Thanks to Brenda and NZYMES®.
Lorraine
Winnipeg, MB